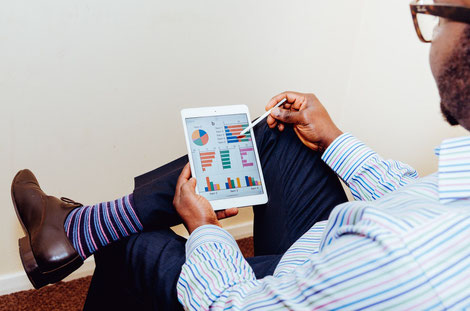 Not sure where to begin when it comes to cyber security?
You can "find" a friend in Find Me Cyber.  The truth is, we live in a hyper-connected world, in which the "interwebs" has brought unimaginable conveniences. Unfortunately, there is a price for luxury, and small business owners and freelancers must be aware of the risks we face everyday. Awareness is a great start and helps you know what you don't know.
---
That is why we've developed this blog series called Talk Cyber to Me: Conversations with Experts. Inform yourself, protect yourself, and don't let yourself become a Cyber victim. Follow us on LinkedIn to educate yourself on these threats so you won't be kicking yourself later.
We are fortunate enough to speak with Don George, Founder and CEO of Envision Consulting, LLC. 
Thanks for your time Don.  To start off, what are some key things that you think small business owners and freelancers should know about on cyber security?
One of the most common ways how businesses of all sizes (but especially small ones) put themselves at risk is by not keeping their computer software, operating systems and mobile apps up-to-date, or what in the technical world is knows as patching. Most people don't realize that as time goes by, cybercriminals are experts at finding vulnerabilities in systems and software they can exploit to infect computers and breach your data, so manufacturers constantly release updates that close those security holes. As a general guideline, you should at the very least keep your operating system (Windows or Mac), browsers, Microsoft Office, Java and Flash up-to-date.  
Another common practice that makes small businesses vulnerable is storing important business information on a local device like a desktop, laptop, smartphone or a USB drive. Doing so puts them at risk of losing data to externalities like a damaged, hacked or stolen device and even an internal threat like a disgruntled employee. Understanding that smaller businesses and freelancers need to be mobile and may inevitably maintain information on their local devices, they can minimize the risk by encrypting their computer hard drives, storing data on a central location that uses encryption and having a good backup system. For mobile devices, it is recommended to have password protection, and turn on the "find me" features so that if a device went missing, it is possible to remotely wipe the information.
When we first spoke, you had mentioned there are some free tools available to help small/micro businesses protect their data.  Can you review those again?
Absolutely! There are three great tools small/micro businesses can use to protect their data for free.
Ninite- Free tool that allows you to quickly update internet browsers and many common third-party apps (Skype, Dropbox, Java, Flash, etc.) in just a few clicks. You just select which applications you would like updated and Ninite will patch them to the latest version https://ninite.com/
OpenDNS- Free utility that helps prevent visiting websites that may have malware. By changing a couple of settings on your computer and router, all website visits are first vetted by OpenDNS to make sure you're not visiting a site that has been reported as having malware. If a website you want to visit has been compromised, OpenDNS will display an alert and prevent you from opening the page. As a bonus, OpenDNS is a great tool to use at home to prevent children from accessing inappropriate content such as adult sites https://www.opendns.com/home-internet-security/
MyWOT - Web of Trust (WOT) is a free browser extension that tells you which websites you can trust when you doing Google searches or visiting a website.  https://www.mywot.com/
Great stuff, Don - free is always good!   So something we like to ask experts like yourself is if you were in the shoes of other small business owners or a freelancers, what would keep you up at night?
As a small business owner, and having worked with so many small business owners over the years, one concern that keeps us up at night is how long would my business survive if I lost or was not able to access data for an extended period of time?  One of the great threats of cybercrime (think malware, viruses, etc) is that once they breach your systems and get access to your networks it can corrupt or hijack data -  so without the proper backup, it may be weeks or months before you can restore business data.
While you can't be 100% protected from these kinds of threats, small business owners and freelancers can takes steps to be prepared by investing in a good back-up system for their files. Paid services like Dropbox Pro or Carbonite are very robust and designed to not just store your data securely off-site, but do it securely with encryption protocols. Plus, they have good prices available for businesses of all sizes.
One last one Don, can tell me something a typical small business owner may not know about cyber security or protection?
A scary fact that most people don't know is that traditional cybersecurity tools like anti-virus or firewalls are only able to prevent and detect 30-50% of threats. This is because these types of tools rely on the manufacturer to keep them up-to-date with the latest viruses and threats that are going around, so with the high speed and volume of attacks, manufacturers are in a race against time to collect and analyze data to update their products.
But this doesn't mean the war is lost! Most effective cyber security protection doesn't come from just one tool, but a set of layers that can prevent and detect threats at different points, very much like having a bullet-proof glass. Sounds overwhelming and complicated but even the smallest of business can build defenses to have a better night sleep. At a minimum, a small business should: Install anti-virus/malware on each computer, keep systems up-to-date, use web traffic protection and content filtering (such as OpenDNS) and most importantly, provide security awareness training. After all, human error is by far the #1 reason hackers are so successful in breaching systems.
Don that is great way to end.  As you know, we at Find Me Cyber are all about reducing human error through raising awareness. 
Follow us on LinkedIn or Twitter to educate yourself on these threats so you won't be kicking yourself later.
About Envision Consulting:  Since 2001, Envision Consulting has served as the I.T. partner to small and midsize organizations in the Greater Washington DC-area and nationwide. Through Proactive I.T. management and support, cloud computing, cybersecurity services and business I.T. consulting, Envision is dedicated to helping clients find a competitive edge through modern technology solutions that align with their strategic goals, keep the business running and support all functions of the organization